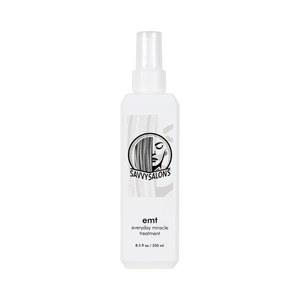 EMT treatment
Sale price Price $27.00 Regular price
A light leave-in conditioner that strengthens, repairs, de tangles, boosts moisture, repairs split ends, protects against breakage and adds shine. Also makes a great beard conditioner, keeping facial hair soft and touchable!
De tangle, de-frizz, protect, and perfect. "E.M.T." is a miracle in a bottle. This all-in-1 beautifier fights frizz, color fade, protects hair from damage, smooths split ends and leaves hair silky and radiant everywhere else. All without heaviness. Great for all hair types.

The Benefits!
• SILK PROTEIN: nourishes, repairs and protects hair.
• SERECITE MICA: smooths, seals hair color and provides radiant
shine.
• UV FILTERS: block sun damage.